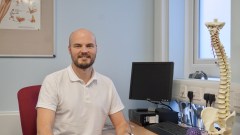 Elmwood Physiotherapy offers treatment for all musculoskeletal conditions. If you are not sure physiotherapy is for you please contact Craig for a free 30 minute consultation.
Craig has been working as a Physiotherapist for over 15 years after graduating from Northumbria University in 2000. Craig worked at Calderdale and Huddersfield NHS trust for 7 years before leaving to focus on Elmwood Physiotherapy. He also worked in Professional Rugby League with Halifax and both played and provided physiotherapy for Huddersfield YMCA Rugby Union.
Craig enjoyed working with professional golfers such as local European Tour Player Chris Hanson, as well as many amateur golfers building strong links with PGA Coach John Eyre.
More recently he completed a seminar with Brad Neal and James Dunne at Kinetic Revolution to further his understanding of running biomechanics.
Craig also enjoyed working locally at Holme Valley Clinic and Holme Valley Sports Injury Clinic.
He is now excited about providing Physiotherapy in a familiar setting at Elmwood Health Centre for everyone.
Craig has been successfully providing Physiotherapy to patients at Elmwood Health Centre for over 10 years. Over this time Craig has developed a strong working relationship with the GPs and other health professionals at Elmwood. The focus being on timely intervention, giving patients the means to return to full function as soon as possible.
For regular updates on Elmwood Physiotherapy like the Facebook page www.facebook.com/elmwoodphysiotherapyholmfirth