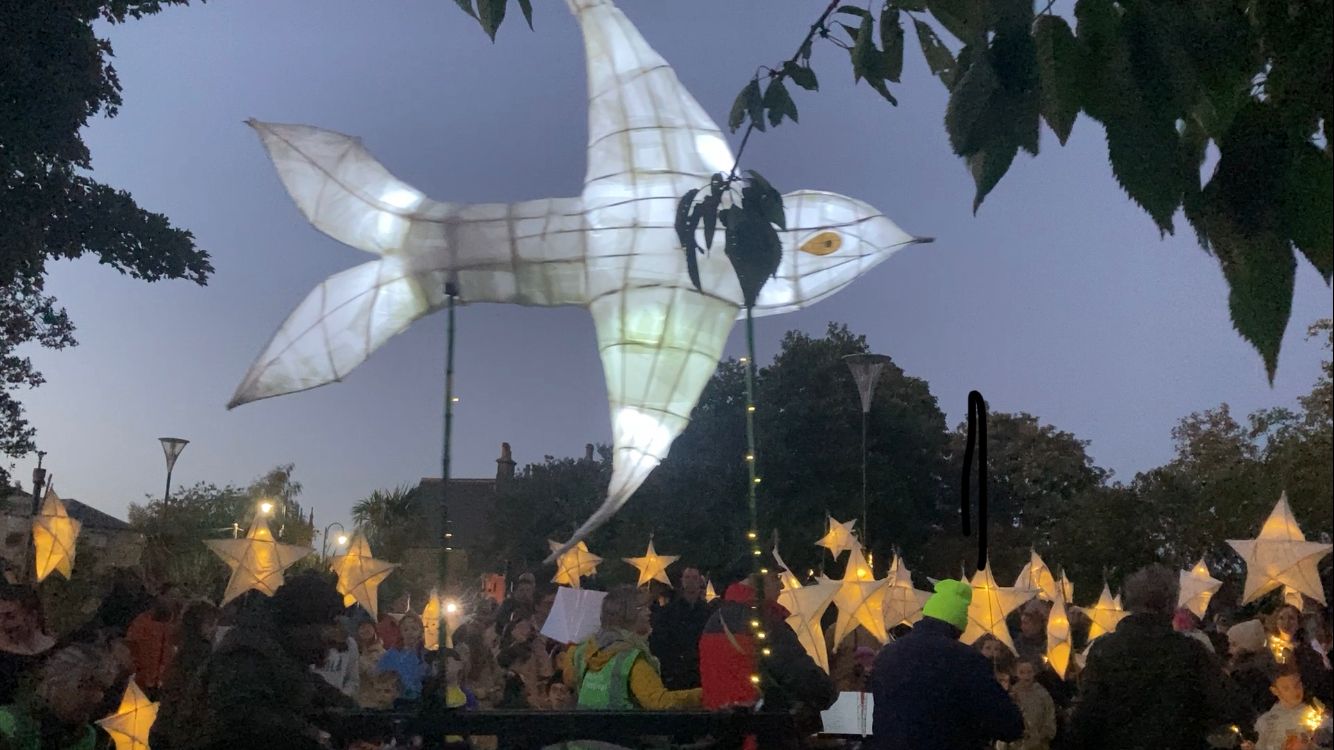 Successful year for Holmfirth Arts Festival with plans already underway for next year's event from June to September 2024
This year's HOLMFIRTH Arts Festival culminated in a celebratory, fun-filled lantern parade around Honley.
Pupils from Honley C of E Junior and Infant School and residents from the Roundway estate made starry lanterns for the event and were accompanied on the parade by percussion band – Banda Na Rua – ending with live music from The Bees Knees at Honley Village Hall.
Light up Honley followed a series of successful events for 2023's festival, which ran from May to October and included the traditional Big Weekend featuring outdoor arts and live performance on the streets of Holmfirth in June.
The 2023 programme of indoor and outdoor events included five outdoor walks, musicians from Ireland, music from two brass bands, the premiere of an aerial dance performance from the top of Holmfirth Parish Church, plus comedian Jenny Eclair entertaining a sold out audience at The Civic Holmfirth.
Around 10,000 people attended festival events; with 1,360 participating at the Big Weekend in The Forces of Nature Parade, music making, craft workshops and the Art in the Landscape trail.
Work is already underway on plans for next year's festival, which has a theme of FLOW, taking inspiration from the importance of the River Holme in Holmfirth and across the Holme Valley and how it plays a fundamental role in the area's historical development, economic growth and cultural identity.
The FLOW theme will also celebrate local cultural and intellectual achievements, ideas and customs and explore the flow of people and goods, as well as sustainability, landscape, and access and inclusion.
Providing funding is secured, Holmfirth Arts Festival's Big Weekend will take place on the 15 and 16 June, 2024 and will include a new Steve Sykes Commission for Visual Art, inspired by the Holme Valley and around the theme of FLOW.
Bev Adams, festival director, said: "It has been a tremendous and successful year for us. As always, it is lots of hard work and preparation, which is always worthwhile when people attend in their thousands and our audiences tell us how much they enjoyed the programme and appreciated how we used the stunning backdrop of the Holme Valley to full advantage, to help celebrate the 2023 theme 'Forces of Nature'.
Bev said highlights of the 2023 programme included a nod to the 50th anniversary of Last of the Summer Wine, with a special performance Holmfirth based Urban Angels Aerial, with aerial artists Deborah Sanderson and Vince Virr as the characters of Nora Batty and Compo, who danced vertically from Holmfirth Parish Church bell tower.
Bev added: "We want to thank everyone involved from the audiences, the tireless volunteers, the venues, the artists and performers who all work together to make Holmfirth Arts Festival, the success that it is and undoubtedly one of the best small festivals in Yorkshire.
"Huge thanks also goes to our funders and sponsors which include Arts Council England, National Lottery Heritage Fund, One Community, Holme Valley Parish Council, Kirklees Council, SWYFT Creative Minds,  Kirklees Year of Music, and Longley Farm, without whose support the festival would not be possible."