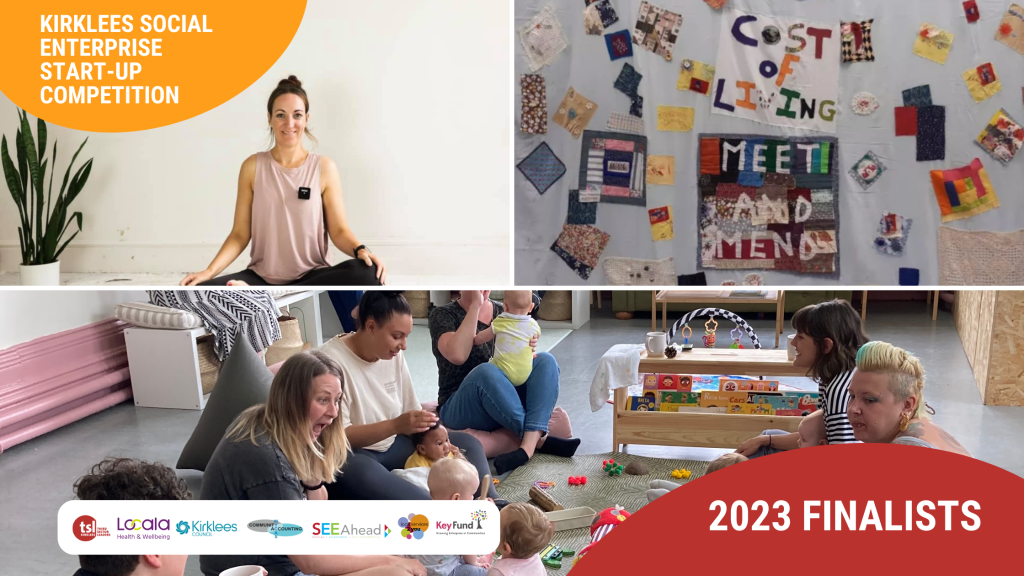 Three new women-led community businesses have been announced as the finalists for this year's Kirklees Social Enterprise Start-Up Competition.  All three are Kirklees-based, under 18 months old and have committed to building a thriving company that protects the environment or reinvests in its local community in some way.  They are:
Jo Cook, Meet and Mend which uses sewing and mending to support people in North Kirklees and encourage sustainability (read more),
Laura Scully, Hello Wellness CIC which uses Pilates and coaching to help women who've experienced trauma (read more),
Rebecca Clacher, The Nest Holmfirth CIC which offers wellbeing support for parents of young children in the Holme Valley (read more).
The three founders all completed a two-month programme of workshops designed to help them plan ahead and get the best start they can, alongside other budding social enterprises, before pitching their idea and business plan to a panel of experts and other established local social enterprises.  Workshops were led by community business experts from Key Fund, TSL Kirklees and West Yorkshire Community Accountancy Service and SEE Ahead.
The winner will be announced at a special event celebrating Social Enterprise on Thursday 14th September at Dewsbury Minster and will receive £4000 to help them kick start their business.  The winner of a new Kirklees Social Impact Award for established social enterprises will also be announced and will receive £1000.  The awards are sponsored by local social enterprises, Local Services 2 You, Locala, local third sector support charity, TSL Kirklees and Kirklees Council.
Adrian Bean from Key Fund said, 'What we're looking for from both awards is a clear and effective business model that can bring in money, without relying on grants, and that has positive impact on the environment or the lives of local people.  Social enterprises need to earn enough to run as a business and give something back by offering things like opportunities for volunteering, training, work experience or free or subsidised goods and services to those who particularly need them or can't afford.  They are in effect, halfway between a charity and a traditional limited company.
'Meet n Mend, for example, has made 217 reusable sanitary pads that it has donated to local food banks and charities, the Nest has set up a free parenting group for dads and Hello Wellness is aiming to support women who've experienced trauma or domestic abuse.'
All three finalists are, or are planning to be, Community Interest Companies (CIC) which is a specific type of limited company that aims to benefit the community rather than shareholders, however, other types of company and co-operatives (which are owned by their members) can also be social enterprises, depending on what they do with their profits.
Some big name companies such as The Co-op, The Big Issue, Divine Chocolate, the outdoor clothing company, Patagonia, Suma Wholefoods of Elland, and local healthcare provider, Locala are all social enterprises.
The competition is in its second year and is run by a group that includes both the sponsor organisations and workshop leaders, plus other established local social enterprises (like Eden's Forest and Our Creative Connection) and other support organisations (such as Social Enterprise Yorkshire and Humber).  The group, known as the Kirklees Social Enterprise Sounding Board, is working together to encourage more not-for-profit businesses and people with great ideas in Kirklees.
Hilary Thompson, Trustee for local charity, TSL Kirklees and Chair of the said, 'It's a well-known fact that social enterprise can be good for the local economy, local people, and the environment.  These types of businesses tend to be innovative and forward thinking and supportive of their employees, volunteers, and local community.  They place real value staff wellbeing and environmental impact.  The Sounding Board firmly believes that encouraging and supporting more social enterprises is a good thing for Kirklees.'
Find out more about social enterprise and the Kirklees Social Enterprise Sounding Board.
Apply for the Kirklees Social Enterprise Social Impact Award by midnight on 31st August.
Book a ticket for the Kirklees Social Enterprise Competition Final.