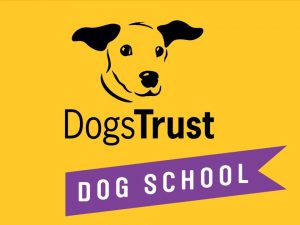 Dogs Trust is dedicated to helping owners understand their dog's behaviour and avoid common pitfalls that can lead to problems further down the line.
Our Dog School training course provides essential advice about dog training and behaviour, to help you create a lifelong bond with your dog.
What you get: 
We have a variety of services available such as;
Workshops – 2-hour sessions where we focus on new behaviour and progressing this. Topics covered are; loose lead walking, coming back when called (recall) and trick training. These sessions are £35.
Classes – Four 45-minute sessions over four weeks. These are available for Puppies/Adolescents. These sessions cover a variety of topics from Teaching new behaviours to preventing Jumping up. These classes are £65
121's – 1-hour sessions where we focus on 1 or 2 topics of your choice. This session is run 1 on 1 with a Dog School coach. These sessions are £70
For all of the above services you also receive;
Access to an online video that introduces Dog School topics
Access to the Dog School owner's website
121 support from Dog School coaches
Classes run at Honley Community Centre Wednesday evenings and Saturday afternoons.
Must pre-book your space: https://www.dogstrust.org.uk/help-advice/dog-school/