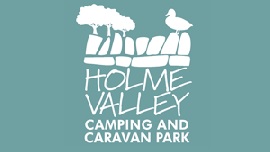 Part-time Receptionist / Shop Assistant at Holme Valley Camping and Caravan Park.
We have an exciting opportunity at Holme Valley Camping and Caravan Park for an enthusiastic receptionist/shop assistant to join our friendly team.
This is a permanent, part-time position and hours will vary depending on the season. During spring/summer hours will be between 21 and 28 hours (across 3 or 4 days) and during autumn/winter between 7 and 21 hours (across 1 to 3 days). There may be a possibility to increase working hours if the successful applicant is keen to take on cleaning duties. The working day in the shop/reception starts at 9am and finishes at 5pm Sunday to Thursday or 7pm Friday and Saturday. Applicants must be prepared to work some weekends, bank holidays and school holidays.
The duties for this role will include answering the telephone, taking bookings, emailing customers, serving in the shop, welcoming guests on arrival, providing information to guests and resolving any problems. The successful applicant must have basic IT skills, a positive attitude, a flexible approach and a desire to help others. They should be able to work using their own initiative as well as under the guidance and instruction from the park managers. Being part of the team is important to our family business.
The rate of pay will be £9.75 per hour and the successful applicant will have the opportunity to join our workplace pension.
If you require more information about the post, please call Naomi or Ben on 01484 665819.
To apply for the post, please email a CV together with a short description about your current working situation and why you would like to apply for the post to naomi@holmevalleycamping.com by Monday 28th February. Interviews will take place 2nd to 4th March with the post commencing ideally the week beginning 14th March. Please add "As seen on Holmfirth.Info" within your application, thank you.