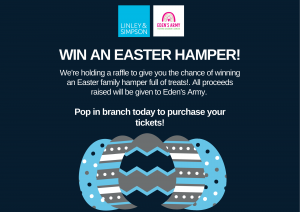 Update – the winner of the competition is Maxine Wheatley. with £172.66 raised for Eden's Army.
Our Holmfirth branch will be turning pink in March, in support of six year old Eden, who is suffering from stage four cancer.
Continuing our fundraising efforts for Eden, we will be holding a raffle at the Holmfirth branch to win an Easter family hamper full of treats, activities, and decorations for all ages.
Last year Eden was diagnosed with high-risk neuroblastoma, an aggressive childhood cancer with a 40-50% long term survival chance on diagnosis.
We're trying to raise as much as we can for her family so she can go to the USA for a revolutionary cancer treatment that increases her chances of survival and reduces the chance of a relapse.
Please click the link below to donate and enter – each donation will automatically be added to the raffle.
Linley & Simpson Easter Hamper Raffle For Eden | Solving Kids' Cancer (solvingkidscancer.org.uk)