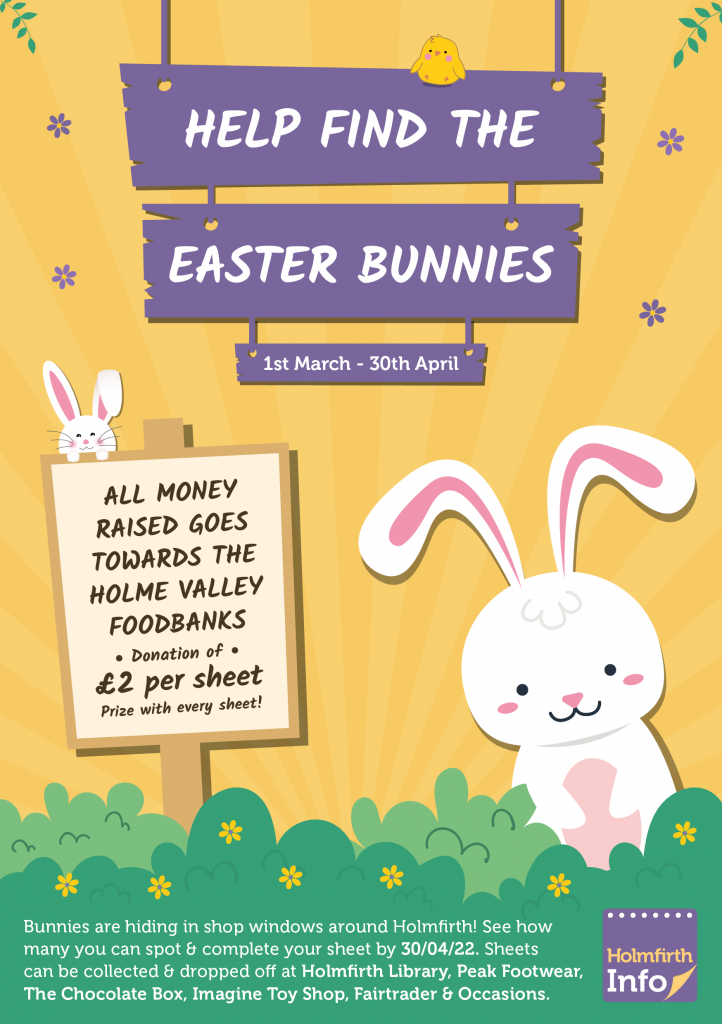 Holmfirth Spring "Find the Bunny" Trail
1st March – 30th April
Easter Bunnies are hiding in shop windows around Holmfirth and we need your help finding them!
All money raised will go towards the Holme Valley Foodbanks. 
Sheets are £2, with a free prize every time, your entry will go into a draw to win a "giant" bunny!
Trail sheets can be found / dropped off at:-
Imagine Toy Shop
The Chocolate Box
Occasions Cards and Gifts
Fairtrader
Holmfirth Library
Peak Footwear
These are the bunnies, the shops will have the large bunnies, and when you donate £2 for the sheet, you will get one of the smaller bunny keyrings! Super Cute aren't they!!!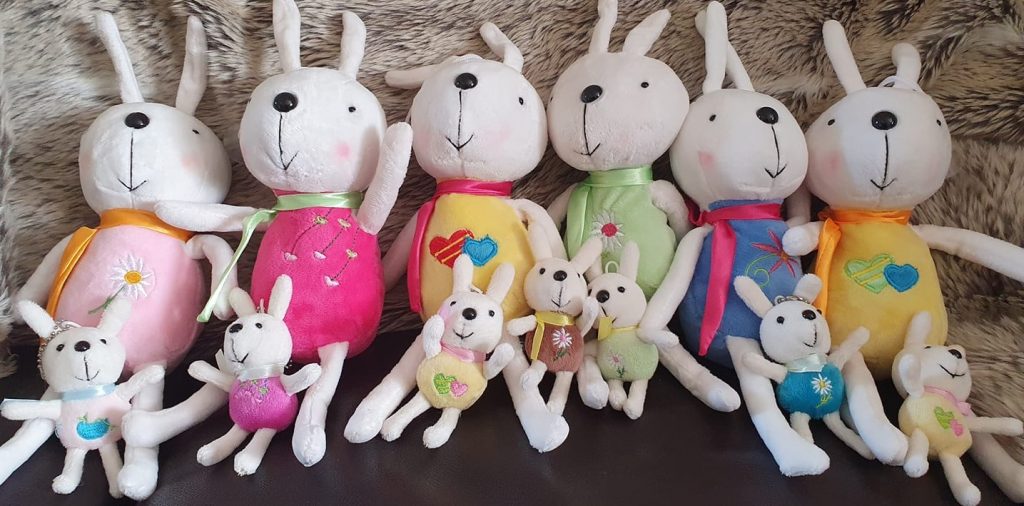 These are the wonderful places taking part, so lot's to see!!!
Age UK
Andrews Greengrocers
Applegate Properties
Ashton & Mason
Bear Beans
Beatties Deli
Big D Vapes
Bijou Bridal Boutique
Bluebird Bakery
Body & Sole
Bon Chocolat of Holmfirth
Bridge Law Solicitors
Cask
Charlesworths
Chill Out Therapies
Cocoon
Daisy Lane Books
Dawson and Hall
Debra Charity Shop
Dotty Bridal
Dysons Jewellers
Elephant & Castle
Fabulous Gladrags
Fairtrader, Holmfirth (Collection Point)
Forget Me Not trust
Harveys Bar Holmfirth
HDnine massage
Hendersons Opticians
Hobsons Florist
Hollowgate Fisheries
Holme Coffee House
Holmfirth Civic Hall
Holmfirth Colour Print
Holmfirth Library (Collection Point)
Holmfirth Opticians
Holmfirth Pet Centre
Holmfirth Vintage
Hone & Strop
Imagine (Collection Point)
J W Kaye Ironmonger
Kirkwood Hospice
Kutchenhaus
Langricks
Linley & Simpson
Magic Rock Tap, Holmfirth
Mantle Psychology
Massage by Isobel
Maude Fashion
Medicare (Elmwood)
Medicare (Holmfirth Centre)
Mezze Restaurant
Michaels Barbers
Monty's Hippie Shop
Nellies Wooden Workshop
No 25 Hair & Beauty
O'Briens Bottle Shop
Occasions (Collection Point)
Old Bridge Bakery
Old Bridge Barbers
Oscars Café & Wine Bar
Oxfam Holmfirth
Peak Footwear (Collection Point)
Pennine Wealth Management
Philomena Foggs
Physio Hub
Poppa Piccollnos
Purple Apricot
Ramsdens Solicitors
Read Holmfirth
Regain at Holme Valley Wellbeing Centre
Ribbles Holmfirth
RSPCA Charity Shop
Ryder Dutton
Shades of China
Sid's Café
Simon Bythe Estate Agents
Snowgate
Ten Fourteen
The Chocolate Box (Collection Point)
The Face and Body Spa
The Foot Company
The Gig Cartel
The Holmfirth Tavern
The Lounge
The Pattern Principle
The Potters Den
The Rug & Carpet Shop
The Tap House
The Tech, Holmfirth
The Wrinkled Stocking
Tivoli Travel
TNI Vapour
Unity Yard
Vasara
W H Brown
Wheelsbrook
Yorkshire Cosmetic Laser Clinic
Your Nuts Wholefoods
Y's Bar