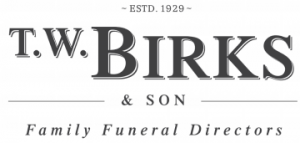 Funeral Director
 T W Birks & Son Funeral Directors are looking for a professional and compassionate individual to join our collaborative and dedicated team as a Funeral Director.
The ideal candidate should have good communication and listening skills, be able to work in a team and independently, have attention to detail, be adaptable, sensitive, respectful and have a high standard of personal presentation.
The role will be based at our new purpose-built funeral home on Woodhead Road, Holmfirth which has a warm, welcoming reception area, private arrangement and meeting rooms, and peaceful service and viewing chapels.
Previous experience in the industry is not required, as full training will be provided.
What Will I Be Doing as A Funeral Director?
As a Funeral Director, you will be at the core of our business and the funerals which we deliver within the community.
Our funeral directors are responsible for making funeral arrangements and conducting funerals, liaising fully with families prior to the funeral and overseeing all staff who will participate in the process. Offering the family the support and care they need before, during and after the funeral ensuring they receive the highest levels of service.
About Us
T W Birks & Son Funeral Directors in Holmfirth, Huddersfield, are your local Dignity funeral directors.
We were established in 1929 by Thomas Wilfred Birks and continue to put emphasis on our exceptional standards of service, with the third generation of the Birks family continuing to work in the business.
We are proud to work in a unique industry and succeed by helping people through difficult times with compassion, respect, openness and care.
We offer a range of challenging and rewarding roles for caring individuals across the funeral profession and we continually invest in our staff, premises and vehicles so that we can ensure clients and their loved ones receive the highest standard of care.
Every day, we want to exceed our customers' expectations, we aim to do this by persistently delivering excellent client service through the continued dedication of our people.
Our values
Professional, Compassion, Respect & Knowledge form the basis of all our interactions and recognising this, you will be giving back to families in a critical time, whilst ensuring that their loved ones are treated with the utmost respect and dignity.
 What Do I Need?
A Full UK Driving Licence.
To be well presented and professional at all times.
To be committed to delivering a funeral service at the highest of standards.
To be physically fit and able to lift and carry heavy weights by following manual handling procedures.
To be flexible and adaptable.
Benefits
Salary up to £25,206.39 per annum.
Training and learning opportunities, with our dedicated Learning and Development team and management team who will ensure that you are delivered full training to confidently perform this role and will also aim to promote your progression.
Alongside this, Dignity Plc really believes in our people, so you will also have access to a wide range of Mental and Financial Well-being tools, access to financial support and a broad range of benefits.
Employees start with 22 days holiday + bank holidays
Further Details
The position is full-time and permanent, working hours are 8.30am – 5.00pm Monday to Friday plus participation in the out of hours rota for into care, chapel visits and support of community events.
Although your primary location will be in Holmfirth, you will be expected to cover other branches across West and South Yorkshire as needed.
Previous experience in the industry is not required, as full training will be provided.
What are the next steps?
Please note our recruitment is not handled by colleagues in branch, though if you have general non-HR questions please feel free to contact us on 01484 683322 or by email twbirks.holmfirth@dignityfunerals.co.uk .
If you are interested in learning more about Dignity Plc, please feel free to visit our website at Dignity Funeral Directors: Funeral Services & Prepaid Funeral Plans www.dignityfunerals.co.uk.
If you wish to be considered for this role, please submit your application via the 'apply' button on Indeed. This is the only application route.
Dignity Plc is an equal opportunity employer where we celebrate diversity across our business. We are committed to creating an inclusive environment for all our employees; therefore, all our employment decisions are assessed based on qualifications, merit and business need.
Please, add "as seen on Holmfirth Info' within your application.