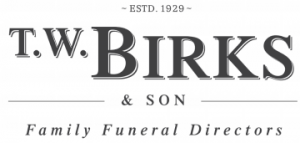 Casual Funeral Service Operatives
T W Birks & Son Funeral Directors in Holmfirth, Huddersfield, are your local Dignity funeral directors and are currently looking to recruit new members of staff to join our existing team of casual funeral service operatives.
What Will I Be Doing as A Funeral Service Operative?
Being part of the funeral service by bearing the coffin and driving company vehicles, including as part of the cortege.
Preparing and ensuring the cleanliness of vehicles
Assisting the Funeral Director with pre-funeral checks including route planning and address checking
Preparing and setting up venues for the funeral service to take place and acting as a company ambassador
General cleanliness of the funeral home, ensuring high standards are maintained at all time
Aid with bringing the deceased into our care
Coffin preparation
Assisting with community events
What Do I Need?
A full UK driving licence
Good level of physical fitness, as this role will involve heavy lifting duties
The necessary documentation for a basic DBS, reference & driving licence check.
Pride in your appearance, ensuring you are always professional
A caring and empathetic nature
The determination to deliver excellent client services
Hours of Work
This is a part-time role, with a contract based on zero hours, existing colleagues already in the role work a varying number of hours to suit their own needs and have the flexibility to accept work to fit around other commitments, for example some are recently retired as this role still allows for childcare/longer periods of holiday.
Work will be primarily based at our Holmfirth funeral home, though you will be given the opportunity, if you wish, to also work across the wider South and West Yorkshire region for our other branches.
Some of our casual funeral service operatives are also on our on-call rota to ensure we provide a high quality service 24 hours a day, 365 days a year.
 Salary and Benefits
£9.50 per hour plus out of hours ancillary payments.
A full uniform and training is provided.
About Us
T W Birks & Son Funeral Directors in Holmfirth, Huddersfield, are your local Dignity funeral directors.
We were established in 1929 by Thomas Wilfred Birks and continue to put emphasis on our exceptional standards of service, with the third generation of the Birks family continuing to work in the business.
We are proud to work in a unique industry and succeed by helping people through difficult times with compassion, respect, openness and care.
We offer a range of challenging and rewarding roles for caring individuals across the funeral profession and we continually invest in our staff, premises and vehicles so that we can ensure clients and their loved ones receive the highest standard of care.
Every day, we want to exceed our customers' expectations, we aim to do this by persistently delivering excellent client service through the continued dedication of our people.
How to Apply
Please note our recruitment is not handled by colleagues in branch, though if you have general non-HR questions please feel free to contact us on 01484 683322 or by email twbirks.holmfirth@dignityfunerals.co.uk .
If you are interested in learning more about Dignity Plc, please feel free to visit our website at Dignity Funeral Directors: Funeral Services & Prepaid Funeral Plans www.dignityfunerals.co.uk.
If you wish to be considered for this role, please submit your application via the 'apply' button on Indeed. This the only application route.
Dignity Plc is an equal opportunity employer where we celebrate diversity across our business. We are committed to creating an inclusive environment for all our employees; therefore, all our employment decisions are assessed based on qualifications, merit and business need.
Please, add "as seen on Holmfirth Info' within your application.