From Win and Karen – Holmepride
On 10th June I mentioned we were getting close to breaking through the 3,000 barrier of followers on our
Facebook page
, well not only has this been reached but following now stands at 3,016, so thank you all and to the latest 31 followers over the past 2 weeks and welcome.
As there is a lot to report on, I'm going to have to split my reports into two, one today and maybe the second over the weekend.
One of our main objectives is to get our young kids involved in their Holme Valley community and one of these avenues is to make contact with the Common groups, Beavers, Cubs, Brownies, Scouts and Guides groups.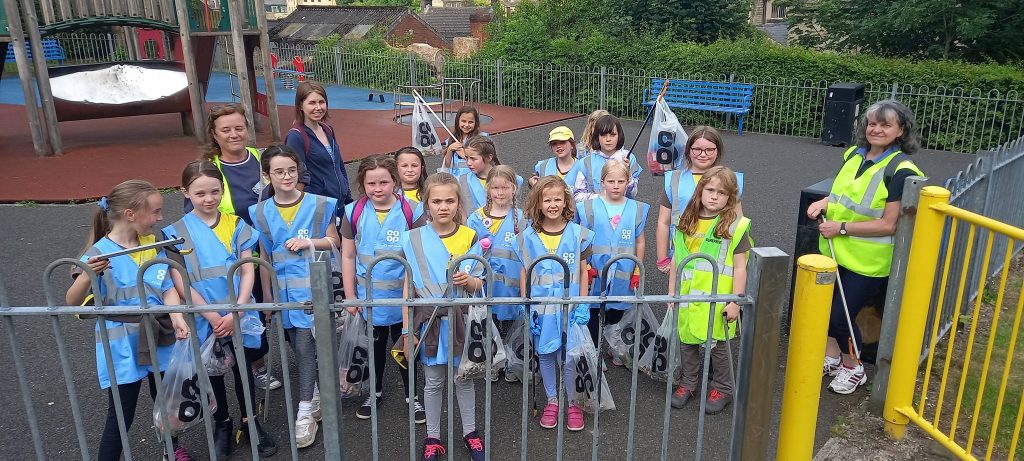 So, on 15th June, 16 1st Netherthong Brownies with 3 leaders, Lisa Girdwood, Kerry Weir and Katy Buckley came along to litter pick Victoria Park, before going onto Holmside Gardens, then finishing the evening down around the Duck Feeding area.
Thank you for making a difference to our town.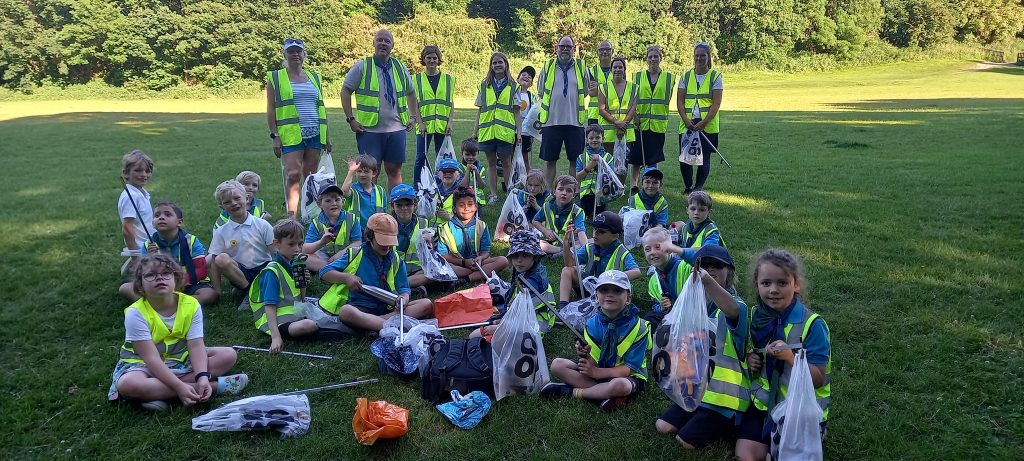 This was followed a week later by 21, 1st Holme Valley (Holmfirth) Beavers plus 3 leaders Bear (John), Deer (Olivia), Hedgehog (Richard) plus 6 parents who also came along as added support. They were also joined by 3 non- Beavers who were school friends of Beavers (maybe they may join Beavers now?).
We all met up down at Sands Rec. Where the group split into two and litter picked both sides of the river, before joining up where the football pitch and play area is.
The Beavers then gathered to safely collect large pebbles by the waters edge to use next week to paint up. It would be interesting to see how they get on.
After a small stinging nettle occurance to one of the young Beavers was dealt with, a 15 minute fun time was had in the Play Area before heading back home.
On 4th July, a new Scout group to Holmepride-CiA will be using around 20 of our litter pickers in Meltham, so welcome them plus Beavers, Cubs, Brownies and Guides if these groups also exist, just get in touch with a message to
facebook.com/holmepride
or email hello@holmepride.co.uk
In September, we hope to provide litter pickers to 1st Holmfirth Guides, so if you're reading this and you would like to use our litter pickers for your group, school or adult organisations, we're here to help you.
Now, on 9th July at St David's Church Hall in Holmbridge, Fair Trader in Holmfirth are hosting a mid-Summer Ceilidh with profits being evenly split between Holmepride-CiA and River Holme Connections (see attached poster for details).
Neither Karen or I knew what a "Ceilidh" was, so o asking around it turns out to be a an Irish style Barn Dance, that we understood. A 7 piece Holme Valley ceilidh band Rocks and Reels
Just go to
www.fairtrader.info
for more information to buy tickets or just drop into Fair Trader in Holmfirth Town Centre where tickets can be picked up and hope to meet many of you there.
– more painting done around Holmfirth Town Centre
– update on the old phone box outside the Holmfirth Post Office
– start made on the School Street garden that Holmepride-CiA have taken over management of.
– updates on other improvements that are getting arranged and made already around Holmfirth
– new Holmfirth Town Centre maps updates
Thank you as ever for your continued support.