Congratulations to Diane Weatherby for winning the tickets.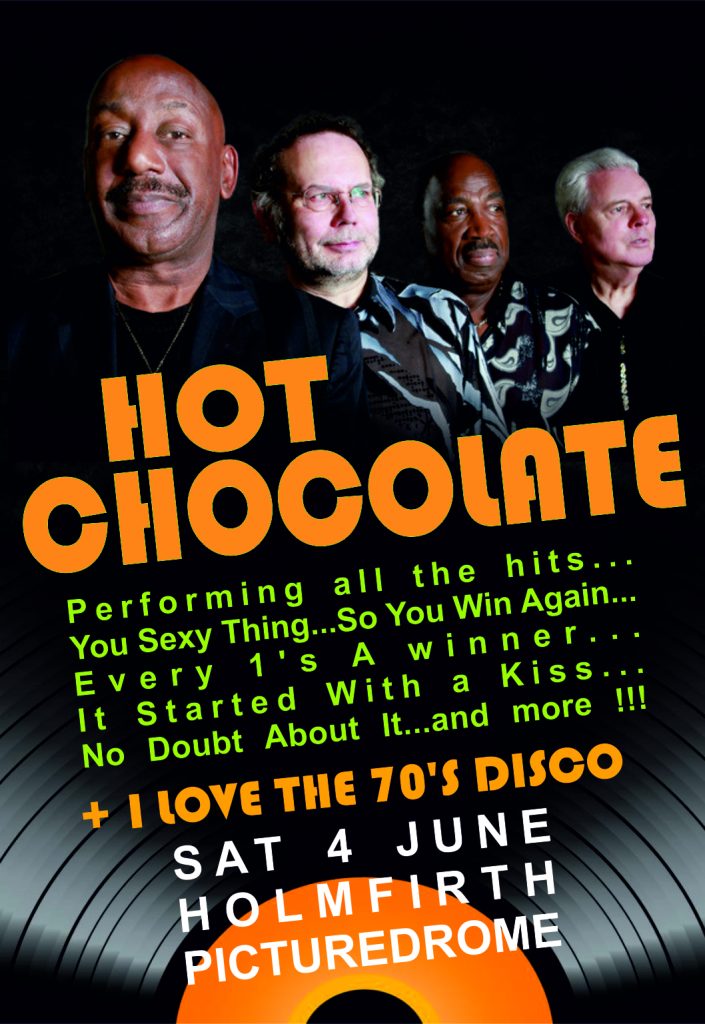 Competition to win 2 tickets to see HOT CHOCOLATE & I LOVE THE 70's DISCO play The Picturedrome on Saturday 4th June 2022!
All you need to do to enter, is add the comment below "me please" and share this post to your Social Media, or enter via our Facebook page (CLICK HERE), or click the link below…
---
Hot Chocolate + I love The 70's Disco.
In 1970, Hot Chocolate with the help of record producer Mickie Most, began releasing tracks that became hits, such as "Love is Life", "Emma", "You Could Have Been a Lady", and "I Believe in Love".  It was however in the disco era of the mid-1970s that Hot Chocolate became a big success, with big hits like "You Sexy Thing" and "Every 1's a Winner".
In 1977, after scoring 15 hits, they finally reached Number One with "So You Win Again". Other hits followed including "No Doubt About It", "Girl Crazy", "Brother Louie" & "Put Your Love In Me".
The band became the only group, and one of just three acts, that scored a hit in every year of the 1970s in the UK charts (the other two being Elvis Presley and Diana Ross). The band eventually had at least one hit, every year, between 1970 and 1984.
They continued well into the 1980s and clocked up another big hit record: "It Started With a Kiss" in 1982, which reached Number 5 in the UK. In all, the group charted 25 UK Top 40 hit singles. Their single "You Sexy Thing" became the only track that made British Top Ten status in the 1970s, 1980s and 1990s. Its renewed appreciation can be credited in part to its appearances in a string of successful films starting with the 1997 comedy The Full Monty.
Tickets for the HOT CHOCOLATE – June 2022 – Holmfirth show are available from:
Saturday 4th June 2022
HOLMFIRTH – Picturedrome
Doors – 7.30pm
Website – https://thegigcartel.seetickets.com/event/hot-chocolate-i-love-the-70-s-disco/picturedrome/1951249
Tickets – £27.50 advance
For further information on HOT CHOCOLATE, check out the following website / social media links:
Website – http://www.hot-chocolate.co.uk/
Facebook Page – https://www.facebook.com/HotChocolateband
You Tube Links – https://www.youtube.com/results?sp=mAEB&search_query=hot+chocolate