For "Featured" Events only, click HERE
To list your event, click HERE
To list your business, click HERE
(You must have a listing with us if you are a business to add events)

Radical Rest Yoga -The Joyful Art of Resting at Cafe Root & Well-Being Studio
13th November -6:00 pm

-

8:00 pm

£19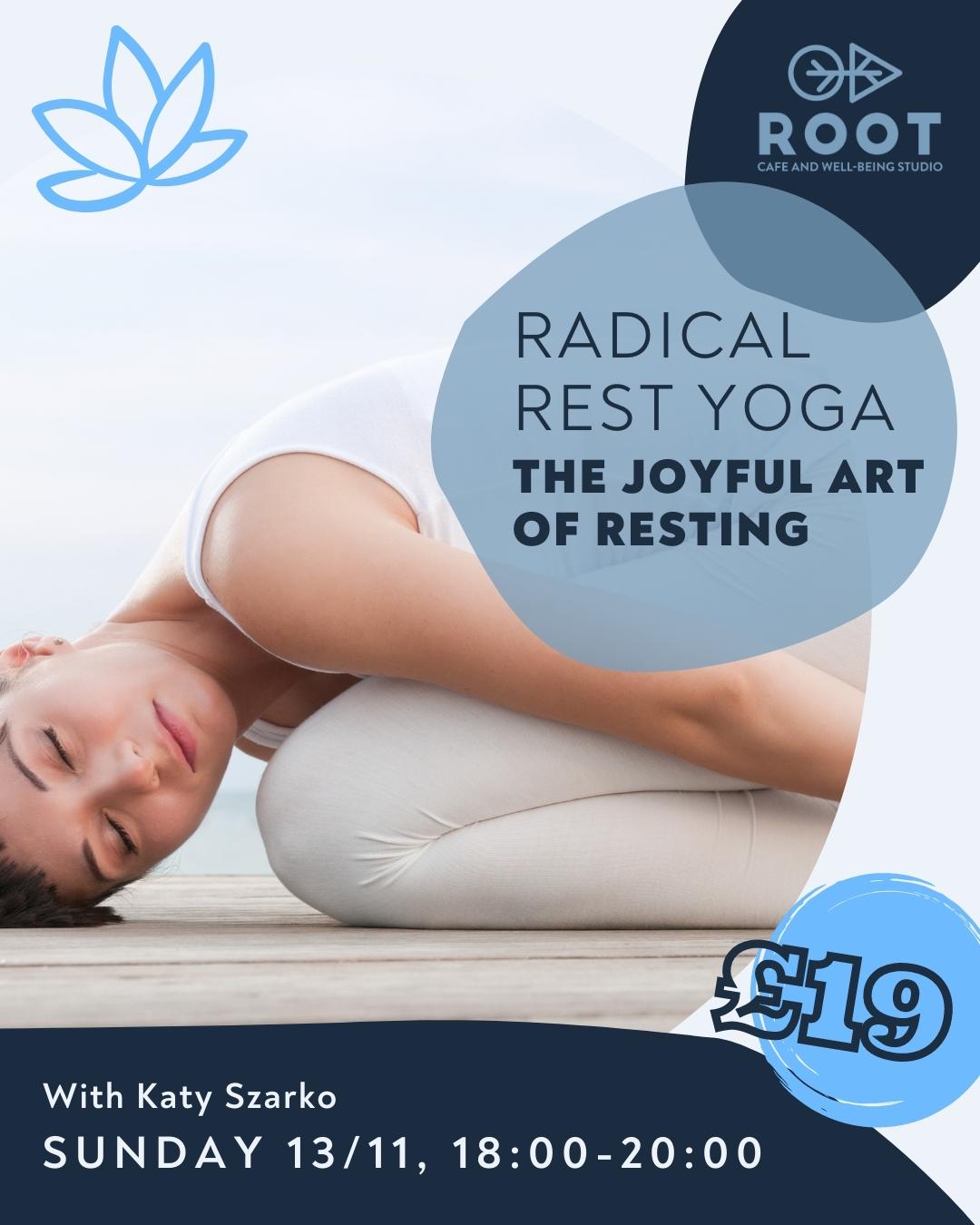 "A respect for rest is always important to our wellbeing, and right now, it is more crucial than ever to show up rested for all that we do" Uma Dinsmore-Tuli
This workshop promotes a respect for rest and is a guided experiential practice with an emphasis on keeping movement simple and dropping into felt sensations to nurture the nervous system. Mainly practised laying down, expect delicious movements to lengthen and unwind tight muscles, juicy spiralling of the spine and a nourishing joint freeing experience. We will interweave movement with the breath and drop into moments of stillness to absorb and notice what we notice.
We will create our individual 'resting nest' with rugs, blankets, cushions and bolsters. Katy incorporates hands-on 'settling' and squeezing, for those who want it, to encourage comfort and a sense of letting go. And aromatherapy oils, chanting and singing bowls to help tune in to our senses and selves.
This class is ideal if you are in recovery from an illness or injury, if you are seeking sleep recovery or if you are simply looking to carve out some much-needed rest time.
If you are looking to explore creative moving meditations, move freely, let go of tension and be mostly laying down then this practice is for you. You will feel wonderfully relaxed and almost everyone that has attended reports how well they sleep afterwards.
You do not need any yoga experience, just a willingness to discover or rediscover the pleasure that comes from restful movements and breath enquiry. Suitable for complete beginners and seasoned yogis.
With Katy Szarko, Yoga Instructor
£19
Related Events
Don't forget to mention you saw the event on Holmfirth.Info, thank you!
Do not download or copy this data for commercial purposes.