Open Mic Nights at The Winking Stag
16th August - 8:00 pm

-

10:30 pm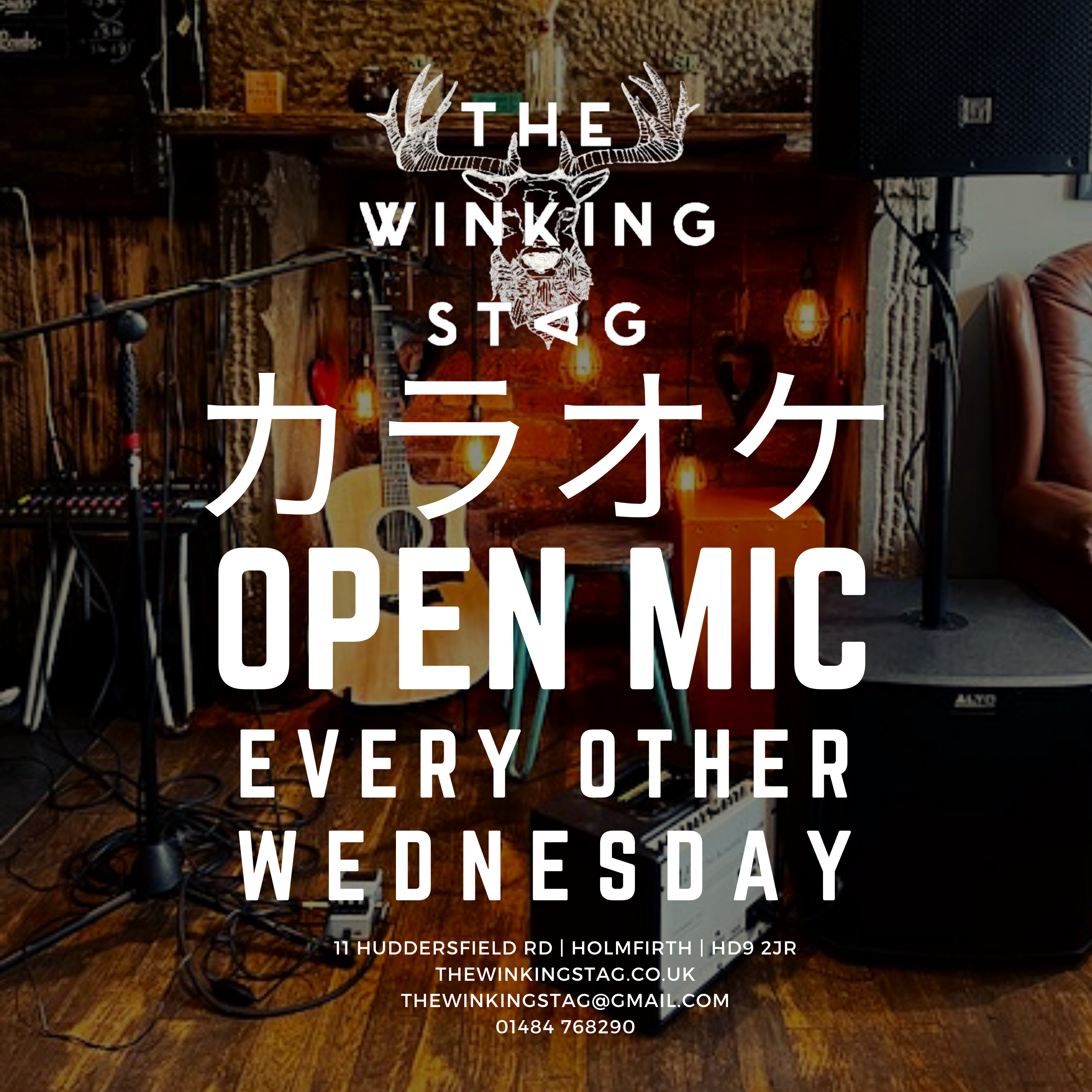 𝐎𝐏𝐄𝐍 𝐌𝐈𝐂 𝐍𝐈𝐆𝐇𝐓   
𝘖𝘛𝘏𝘌𝘙𝘞𝘐𝘚𝘌 𝘒𝘕𝘖𝘞 𝘐𝘕 𝘑𝘈𝘗𝘈𝘕 𝘈𝘚 𝘒𝘈𝘙𝘈𝘖𝘒𝘌 
kæriˈoʊki / カラオケ 
𝐓𝐇𝐈𝐒 𝐖𝐄𝐃𝐍𝐄𝐒𝐃𝐀𝐘 [𝐓𝐎𝐌𝐎𝐑𝐑𝐎𝐖] 
𝘚𝘖 𝘐𝘍 𝘠𝘖𝘜 𝘊𝘈𝘕 𝘚𝘐𝘕𝘎 [𝘖𝘙 𝘕𝘖𝘛], 𝘗𝘓𝘈𝘠 𝘈𝘕 𝘐𝘕𝘚𝘛𝘙𝘜𝘔𝘌𝘕𝘛, 𝘛𝘌𝘓𝘓 𝘈 𝘑𝘖𝘒𝘌 𝘖𝘙 𝘌𝘝𝘌𝘕 𝘚𝘗𝘖𝘒𝘌𝘕 𝘞𝘖𝘙𝘋, 𝘠𝘖𝘜 𝘕𝘈𝘔𝘌 𝘐𝘛… 𝘛𝘏𝘌𝘕 𝘉𝘌 𝘚𝘜𝘙𝘌 𝘛𝘖 𝘎𝘌𝘛 𝘖𝘕 𝘋𝘖𝘞𝘕!! 
 𝐅𝐑𝐎𝐌 𝟕:𝟑𝟎/𝟖𝐏𝐌 𝐎𝐍𝐖𝐀𝐑𝐃𝐒 [𝘚𝘖 𝘠𝘖𝘜 𝘚𝘛𝘈𝘎𝘚 & 𝘋𝘖𝘌𝘚 𝘊𝘈𝘕 𝘎𝘌𝘛 𝘈 𝘎𝘖𝘖𝘋 𝘍𝘌𝘌𝘋 𝘐𝘕 𝘉𝘌𝘍𝘖𝘙𝘌𝘏𝘈𝘕𝘋!]
 ••• 𝐀𝐃𝐃𝐈𝐓𝐈𝐎𝐍𝐀𝐋 𝐎𝐏𝐄𝐍 𝐌𝐈𝐂 𝐍𝐈𝐆𝐇𝐓𝐒 𝐁𝐄𝐋𝐋𝐎𝐖 [𝘙𝘜𝘕𝘕𝘐𝘕𝘎 𝘍𝘖𝘙𝘛𝘕𝘐𝘎𝘏𝘛𝘓𝘠]  
𝐖𝐄𝐃𝐍𝐄𝐒𝐃𝐀𝐘 𝟏𝟔𝐭𝐡 𝐀𝐔𝐆𝐔𝐒𝐓 
𝐖𝐄𝐃𝐍𝐄𝐒𝐃𝐀𝐘 𝟑𝟎𝐭𝐡 𝐀𝐔𝐆𝐔𝐒𝐓 
𝐖𝐄𝐃𝐍𝐄𝐒𝐃𝐀𝐘 𝟏𝟑𝐭𝐡 𝐒𝐄𝐏𝐓𝐄𝐌𝐁𝐄𝐑 
𝐖𝐄𝐃𝐍𝐄𝐒𝐃𝐀𝐘 𝟒𝐭𝐡 𝐎𝐂𝐓𝐎𝐁𝐄𝐑 
𝘚𝘖 𝘔𝘈𝘙𝘒 𝘋𝘖𝘞𝘕 𝘛𝘏𝘌 𝘋𝘈𝘛𝘌(𝘚) & 𝘎𝘌𝘛 𝘖𝘕 𝘋𝘖𝘞𝘕 𝘍𝘖𝘙 𝘠𝘖𝘜 𝘔𝘐𝘋𝘞𝘌𝘌𝘒 𝘚𝘞𝘐𝘓𝘓 & 𝘚𝘖𝘕𝘎 
•••
𝐖𝐀𝐋𝐊 𝐈𝐍𝐒 𝐖𝐄𝐋𝐂𝐎𝐌𝐄  𝘣𝘶𝘵 𝘣𝘰𝘰𝘬𝘪𝘯𝘨 𝘪𝘴 𝘢𝘥𝘷𝘪𝘴𝘦𝘥 𝘧𝘰𝘳 𝘱𝘦𝘢𝘬 𝘵𝘪𝘮𝘦𝘴/𝘥𝘢𝘺𝘴 𝘪𝘯 𝘰𝘳𝘥𝘦𝘳 𝘵𝘰 𝘢𝘷𝘰𝘪𝘥 𝘥𝘪𝘴𝘢𝘱𝘱𝘰𝘪𝘯𝘵𝘮𝘦𝘯𝘵. 
 𝐁𝐎𝐎𝐊 𝐎𝐍𝐋𝐈𝐍𝐄 : 𝘤𝘭𝘪𝘤𝘬/𝘤𝘰𝘱𝘺 𝘵𝘩𝘪𝘴 𝘭𝘪𝘯𝘬 𝙝𝙩𝙩𝙥𝙨://𝙬𝙬𝙬.𝙩𝙝𝙚𝙬𝙞𝙣𝙠𝙞𝙣𝙜𝙨𝙩𝙖𝙜.𝙘𝙤𝙢/𝙧𝙚𝙨𝙚𝙧𝙫𝙖𝙩𝙞𝙤𝙣𝙨 𝘢𝘯𝘥 𝘣𝘦 𝘴𝘶𝘳𝘦 𝘵𝘰 𝘱𝘶𝘵 𝘢𝘯𝘺 𝘰𝘵𝘩𝘦𝘳 𝘪𝘯𝘧𝘰𝘳𝘮𝘢𝘵𝘪𝘰𝘯 𝘸𝘦 𝘮𝘪𝘨𝘩𝘵 𝘯𝘦𝘦𝘥 𝘵𝘰 𝘬𝘯𝘰𝘸 𝘪𝘯 𝘵𝘩𝘦 𝘢𝘥𝘥𝘪𝘵𝘪𝘰𝘯𝘢𝘭 𝘯𝘰𝘵𝘦𝘴. 
 𝐃𝐎𝐆 𝐅𝐑𝐈𝐄𝐍𝐃𝐋𝐘 (𝘯𝘰𝘵 𝘳𝘦𝘤𝘰𝘮𝘮𝘦𝘯𝘥𝘦𝘥 𝘥𝘶𝘳𝘪𝘯𝘨 𝘱𝘦𝘢𝘬 𝘵𝘪𝘮𝘦𝘴 𝘴𝘶𝘤𝘩 𝘢𝘴 𝘍𝘳𝘪𝘥𝘢𝘺 & 𝘚𝘢𝘵𝘶𝘳𝘥𝘢𝘺 𝘯𝘪𝘨𝘩𝘵 𝘢𝘴 𝘸𝘦 𝘸𝘰𝘶𝘭𝘥𝘯'𝘵 𝘸𝘪𝘴𝘩 𝘧𝘰𝘳 𝘵𝘩𝘦 𝘭𝘪𝘭 𝘱𝘶𝘱𝘱𝘦𝘳 𝘵𝘰 𝘣𝘦 𝘰𝘷𝘦𝘳𝘸𝘩𝘦𝘭𝘮𝘦𝘥 & 𝘴𝘵𝘳𝘦𝘴𝘴𝘦𝘥 – 𝘯𝘰 𝘰𝘯𝘦 𝘸𝘢𝘯𝘵𝘴 𝘵𝘩𝘢𝘵!) 
𝘍𝘰𝘳 𝘮𝘰𝘳𝘦 𝘤𝘰𝘯𝘵𝘢𝘤𝘵 𝘪𝘯𝘧𝘰 & 𝘢𝘯𝘺 𝘰𝘵𝘩𝘦𝘳 𝘦𝘯𝘲𝘶𝘪𝘳𝘪𝘦𝘴 𝘱𝘭𝘦𝘢𝘴𝘦 𝘤𝘭𝘪𝘤𝘬/𝘤𝘰𝘱𝘺 𝘵𝘩𝘪𝘴 𝘭𝘪𝘯𝘬  (𝘢𝘭𝘴𝘰 𝘪𝘯 𝘣𝘪𝘰):
𝙝𝙩𝙩𝙥𝙨://𝙬𝙬𝙬.𝙩𝙝𝙚𝙬𝙞𝙣𝙠𝙞𝙣𝙜𝙨𝙩𝙖𝙜.𝙘𝙤𝙢/𝙘𝙤𝙣𝙩𝙖𝙘𝙩–𝙪𝙨 
Related Events
Don't forget to mention you saw the event on Holmfirth Info!
Do not download or copy this data for commercial purposes.