Heritage Open Days – Holmfirth Toll House
8th September - 9:30 am

-

5:00 pm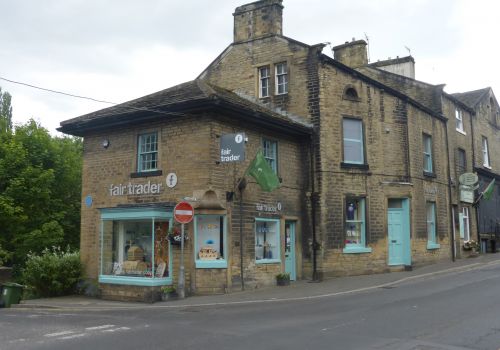 Holmfirth Toll House
Fair Trader Co-Operative, 32-34 Huddersfield Road, Holmfirth, West Yorkshire, HD9 2JS
Experience the toll house's captivating history through vivid pictures. From its humble beginnings as a vital road checkpoint to its role in shaping transportation, each image unveils tales of travelers and commerce.
The toll house in Holmfirth, a quaint village nestled in the picturesque landscape of West Yorkshire, England, has a rich and storied history that spans centuries. Originally constructed in the early 19th century, it served as a vital toll checkpoint, collecting fees from travelers and traders passing through the area. The toll revenue was used to maintain and improve local roads and bridges, ensuring smooth and efficient transportation.
In its early years, the toll house played a pivotal role in the region's economy. As a hub of trade and commerce, it facilitated the movement of goods and people, contributing to the growth and development of Holmfirth and its surrounding communities. Merchants would pass through the toll house, paying their dues before continuing their journeys to distant markets.
As transportation methods evolved, and roads were modernized, the importance of the toll house diminished. By the mid-20th century, it had changed use to commercial property. However, the local community recognise its historical significance and rallied to preserve this iconic landmark and it now has its own blue plaque.
In a remarkable turn of events, the toll house found new life and purpose as a fair trade shop. Embracing the principles of fair trade, the building was repurposed to promote ethical practices in commerce and support artisans from developing countries. Now, it stands as a symbol of sustainability and social responsibility.
Event Times
Available anytime
Booking Details
No booking required
Access
stairs in the property
Additional Information
15 minutes Welcome to our shop! You'll find captivating images and information placed around the store, providing insights into our historic building and their local stories. Explore and discover the world of Holmfirth with us. Contact for the day: Karen Jones 01484 690515
www.fairtrader.info/holmfirth-history-and-its-toll-house
Directions
The toll house in Holmfirth is located opposite the Holmfirth Community Garden and Bloc cafe on the main Huddersfield Road.
Organised by
Fair Trader
Related Events
Don't forget to mention you saw the event on Holmfirth Info!
Do not download or copy this data for commercial purposes.