Cantina Santa Maria La Palma – Sardinian Wine Tasting at Devour
14th September - 5:30 am

-

7:00 pm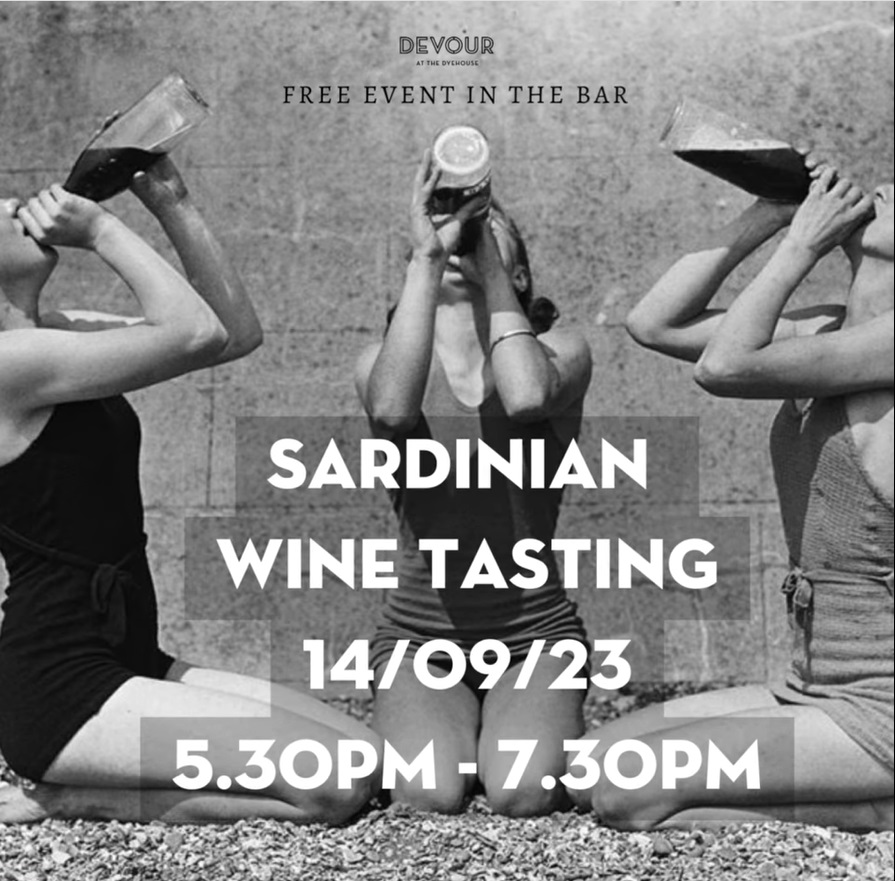 Cantina Santa Maria La Palma – Sardinian Wine Tasting 14/09/23 5.30-7pm
"Drop by & taste" Wine tasting Evening

Embark on a captivating journey with Cantina Santa Maria la Palma Winery, where tradition and innovation harmonize. Join Antonio from the winery for an exclusive evening of mingling, savouring exceptional Sardinian wines, and diving deep into the world of viticulture. This cooperative's unwavering love for Alghero, Sardinia, shines through in their fusion of tradition and innovation, resulting in outstanding Sardinian wines.
Founded in 1946 in the fertile Nurra region of Alghero, Cantina Santa Maria la Palma Winery emerged following the post-war Agrarian Reform, uniting 100 passionate local wine enthusiasts.
Nestled in Nurra's bountiful region, renowned for its ideal grape-growing conditions, the winery's vineyards adorn picturesque plains by the sea, between the Gulf of Alghero and the Bay of Porto Conte, enhancing grape quality.
In essence, Santa Maria la Palma Winery, with its vast 700-hectare vineyard and steadfast commitment to innovation, is a driving force behind the creation of captivating Sardinian wines, seamlessly blending tradition, and innovation into their diverse wine offerings.
Reserve a table and indulge in some special dishes that celebrates the flavours of Sardegna with a delightful Yorkshire twist. These dishes are thoughtfully crafted to perfectly complement our selection of wines from Cantina Santa maria la palma, this will be in addition to our regular eatery menu.
Starts at 5.30pm , we will be holding the complementary casual wine tasting in the bar this will give you the opportunity to taste & get to know Antonio

Make a night of it & RESERVE YOUR TABLE 
"please come earlier than your booking if you would like to try the wines"
Related Events
Don't forget to mention you saw the event on Holmfirth Info!
Do not download or copy this data for commercial purposes.